The holy well of St Elian, Ffynnon Elian ('ffynnon' is the Welsh word for a well, a spring or a source), in North Wales, is one of many hundreds of holy wells throughout Britain. Holy wells are those often named for a saint, water sources that are believed to have spiritual power but Ffynnon Elian has an unusually dark and complex history. The holy well of St Elian became known throughout Britain from the end of the 18th century as 'the Cursing Well'. By the middle of the 19th century the name of 'the Cursing Well' had reached India, and readers of early 19th century magazines and newspapers enjoyed sensational reports of the malice and evil that was said to take place there. It was said that people had died as a direct result of being cursed at Ffynnon Elian, or had lived out their lives in fear and dread.
This is the history of a unique phenomenon. No other saints well has been used in such different ways over hundreds of years, or been described in such an 'unholy' fashion. The history of Ffynnon Elian reflects Welsh religious and social change from the 16th century onwards and illustrates the image of the Welsh in the eyes of their English neighbours.
Ffynnon Elian is within a mile of the North Wales coastline, about half way between the cathedral towns of Bangor and St Asaph. Within a short walking distance of the holy well is the church of St Elian in the village of Llanelian-yn-Rhos, and between the well and the church stands a small, now-disused Methodist chapel known as Capel Nant Meifod. With the old farmhouse that stands at the top of the well field called Cefn-y-Ffynnon (the ridge or the back of the well), this holy well, chapel and church, within a few hundred yards of one another, were the stage for an unfolding drama of conflicting systems of belief.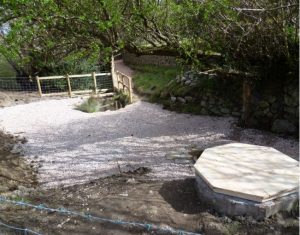 Source: Unholy Water? Ffynnon Elian 'The Cursing Well' by Jane Beckerman
See also: https://wellhopper.wordpress.com/2015/04/11/ffynnon-elian-llanelian-yn-rhos/