St Elian's Church is located in Llanelian-yn-rhos, one mile south of Colwyn Bay in Conwy County, North Wales.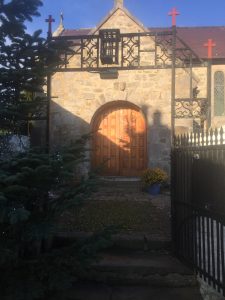 St Elian's Church is a double naved, largely late medieval structure with an arched collar brace roof, and a plain arcade of five bays. The church stands at the centre of the village, adjacent to the village pub, the White Lion, and enjoys fine views over the surrounding countryside.
St Elian's is an historic church, probably founded in the 6th Century: on the north nave wall is a medieval painted panel, once part of a rood-loft; above the east wall are paintings of the life of the Virgin Mary; and the church contains a fifteenth century font with a seventeenth century cover. On the north wall is hung the painted front to the rood-loft, which was still in its original position in 1770-80. The painted panels have since been reframed and mounted. On the central panel is the Last Judgement with Christ sitting in the red robes of a judge surrounded by angels. Below his feet, the dead come up out of their graves. In the panels to the left, the Archangel Michael is weighing souls.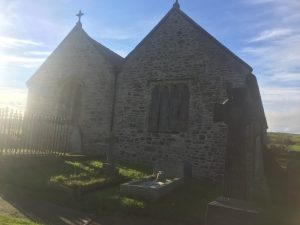 The soul on the left is being pulled down by the Devil and is turning into a little demon. To the right, the Virgin Mary is placing her rosary on the balance beam of the scales to weigh it down on the side of salvation. The soul in the panel next to her is pop-eyed with terror and clutching on to her skirts. The panels to the right depict the story of St Hubert. | Tree ring dating of the stub of the bressummer beam show that the rood-loft was erected in the first quarter of the 16th Century, and the costumes depicted could be as late as approximately 1500.
On the east wa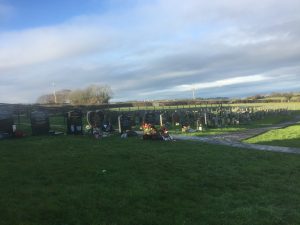 ll, on the wooden canopy above the altar, can be seen some very faded paintings that tell the medieval legend of the life of the Virgin Mary. On the south side, you can just see a drawing of her with her mother, St Anne, who is teaching Mary to read. On the north side, you may be able to make out the nativity and the visit of the Magi.
St Elian's flourished as a late-medieval pilgrimage centre, and offerings from pilgrims probably paid for the enlargement and beautification of the church.
Source: http://www.walesdirectory.co.uk/tourist-attractions/Churches_and_Chapels/Wales18271.htm
Services :
1st Sunday Cymun Bendigaid @ 10am
2nd Sunday Morning Prayer @ 10am
3rd Sunday Holy Communion @ 10am
4th Sunday Morning Prayer (Welsh) @ 10am
5th Sunday Bilingual Holy Communion @ 10am