Ysgol Y Plas is a Church in Wales primary school which serves the community of Llanelian village near Colwyn Bay and its surrounding rural area.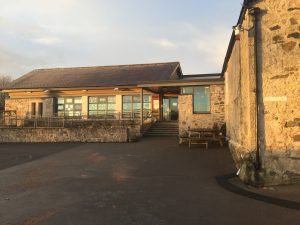 The school describes the area as neither prosperous nor socially and economically deprived. Around 24% of pupils are entitled to free school meals, which is above local authority and national averages.
Currently, the school has 56 pupils on roll aged between three and 11 years who are in three mixed-age classes. Nearly all pupils are of white British ethnic origin and use English as their first language. There were no exclusions during the past 12 months.
Baseline assessments show that most pupils enter school with average literacy and communication skills. The school identifies around 14% of its pupils as having additional learning needs, a figure which is much lower than the national average. No pupils have a statement of special educational needs.
The headteacher has been in post since April 2004.
The individual school budget per pupil for Ysgol Y Plas in 2012-2013 means that the budget is £4,487 per pupil. The maximum per pupil in the primary schools in Conwy is £12,262 and the minimum is £3,081. Ysgol Y Plas is 22nd out of the 60 primary schools in Conwy in terms of its school budget per pupil.